NIST's Public Safety Communications Research (PSCR) division launched a Haptic Interfaces for Public Safety Challenge on 18 March, which will award up to $425,000 to the winning teams....
Bernhard Klinger, Hytera Mobilfunk's vice president of business development, was elected to the role of PMeV – Network for Secure Communications executive chairman by the organisation's general assembly on 27 February. PMeV is the German Federal Association of Professional Mobile Radio....
Dr. Mahesh Saptharishi, previously chief technology officer (CTO) for Avigilon (a Motorola Solutions subsidiary specialising in video analytics, network video management software and hardware), has become Motorola Solutions' new CTO....
ErvoCom, a DAMM systems partner, is using DAMM TetraFlex TETRA network infrastructure as part of its communication solution for the complete city tram lines in Cochabamba, Bolivia. The tram line will link the municipalities of Sacaba, Cercado, Colcapirua, Quillacollo, Vinto and Sipe Sipe in the Department of Cochabamba, providing transport services to more than one million people....
Sepura has sold 45,000 TETRA radio terminals to UK public safety organisations since the introduction of the national Police ICT framework in November 2018, with the largest single order amounting to more than 32,000 hand portable and mobile terminals coming from the Metropolitan Police Service....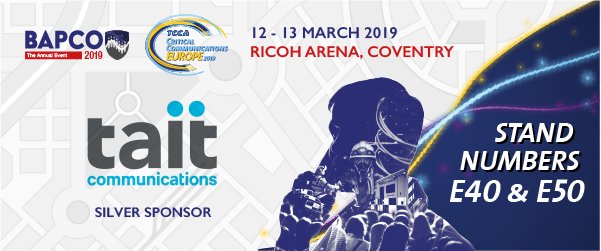 | | | |
| --- | --- | --- |
| | Register for your free subscription: | |
The changing face of emergency medicine
(Advertorial) Geoff Waterhouse, Program Director For Health Infrastructure at NSW Ambulances, shares some insights into current and future trends in emergency medical communications....
Mission-critical standards: the work continues
Erik Guttman, chairman of the 3GPP Service and System Aspects Technical Specification Group (TSG SA), gives Critical Communications Today an update on the work to standardise mission-critical services...